6 Important Things You Need To Know for Scattering Ashes at Sea
Scattering a deceased loved one's ashes at sea has a deep meaning and significance for many people. This type of sea funeral or burial at sea is symbolic. It indicates the return of the departed person to the ocean.
Scattering ashes at sea and burial in the sea have gained a lot of popularity all across the United States. This is because such burials provide an ideal way to commemorate the attachment of the departed individual to the ocean. The funeral at sea is a way to honor and dignify the memory of the departed loved one. Known as an age-old tradition, these types of ashes burial at sea and full body burial at sea bring peace to the grieving families as well. However, sea funerals are not as simple as you may think. The entire process is regulated by the concerned authorities. If you plan to scatter ashes at sea for a loved one, you should first familiarize yourself with all the laws and regulations and get all the necessary approvals.
Being one of the most experienced sea funeral companies in Southern California, we organize both spreading ashes and whole body burial at sea. We always encourage people to ask questions about ocean burials. In this article, we will talk about six important things that everyone who plans to perform an ash scattering at sea ceremony should know and keep in mind.
#1. Maritime Laws and Regulations
Putting ashes in the ocean is permitted by law. However, you need to perform the sea memorial in accordance with some rules and regulations. Before you start planning for scattering ashes at sea, you should find out the maritime laws and rules that you are required to follow.
The US Environmental Protection Agency (EPA) is the prime regulator, responsible for looking after the territorial waters. The body monitors what is being put in the sea and takes action against the violation of any of its maritime laws. As per the EPA rules, you cannot scatter ashes in the ocean within 3 nautical miles (3.45 miles) of the sea shore. Disposal of a pet's remains in the sea is strictly prohibited. If you use an urn or object to spread ashes, you should use only biodegradable materials, so that no harm is done to the ocean environment.
Most of all, you need to obtain an MPRSA permit to scatter ashes or conduct at sea burials. These laws and regulations may vary a little, depending on the specific location of the water body or site of ocean burial.
The Environmental Protection Agency (EPA) has strict regulations in place to protect both people and the environment against a wide range of health risks and hazards. Though you will not need to obtain permits for sea scattering, you will need to strictly abide by the laws in place. Most importantly, you should remember not to put any kind of material or object in the ocean water that will not break down easily. For example, objects made of plastic or metal should never be put into the ocean during an ash spreading or sea funeral ceremony. Before you head out for ash scattering, you will also need to check out your state laws.
If you want more information in this regard, feel free to get in touch with one of our sea funeral experts at Burial at Sea. Our company specializes in planning and organizing ocean burials off the Southern California Coast including Redondo Beach, Long Beach, Los Angeles and Catalina Island.
#2. Biodegradable Urns
Whether you release ashes in the ocean or perform a full body burial at sea, you must not pollute the ocean in any way. As per the maritime regulations, every object that you use during the funeral should be made from natural and biodegradable materials. For scattering ashes at sea, you should get biodegradable urns. You will find a variety of these urns made from natural materials. These urns will decompose easily after some time of being released in the water.
If you use a non-biodegradable urn, you should use it only for the purpose of throwing ashes in the ocean and then take it back with you.
Likewise, all the flowers, wreaths and floral products that you should not have any object made of plastic or metal that will not break down. For instance, using wire fasteners to put together flowers is a complete no-no, as these metal wires will cause harm to the ocean environment. Do not throw in the water anything that will harm the fish or other marine wildlife.
If you are in search of beautifully designed, biodegradable urns for sea scattering, get in touch with one of our professionals.
#3. Boat Rental to Scatter Ashes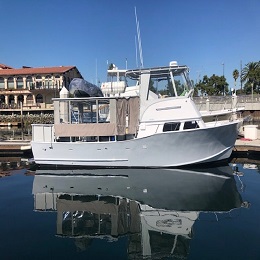 You are required to travel beyond 3 nautical miles from the sea shore in order to scatter ashes at sea. That is exactly why you will need to hire a boat to take you out in the ocean. There are several burial at sea services that provide boat rental to scatter ashes as well as for whole body burial at sea.
If you are in California, Burial at Sea is the ideal destination where you will be able to hire a boat to scatter ashes. Based in San Pedro, CA, the funeral company offers a 40-foot seaway locally built to cruise along the Southern California waters, named the "ASANTE." Powered by two highly efficient diesel engines, the boat can accommodate a maximum of 25 people. Depending on how many people will attend the funeral at sea, you can hire the boat to travel to the desired location in the ocean to perform a sea memorial or se funeral ceremony. Just remember to talk to our professionals ahead of time for proper planning and arrangement.
Our company will also obtain the MPRSA permit as well as provide you with the GPS coordinates for revisiting the site later.
#4. Weather Conditions
The ocean weather conditions can change anytime. You never know when it can get windy out there. That is why it is extremely important to keep a watch on the weather and then make the decision to go for the sea funeral. The ashes being blown back is something that has happened to people before. If you are careful about the weather, something like this will not happen to you.
Before you head out for sea scattering, you should have an idea about which direction the wind is blowing. There are devices that will help you find out the direction of the wind. If the ocean weather looks windy, you should wait rather than rush to the ocean to perform ash scattering as fast as possible. In addition to these, you should also equip yourself with some useful tips as to how exactly to release the ashes so that it does not get caught by the wind. A funeral company plans the whole thing in a proper manner taking the weather conditions into account. If you seek the help of an experienced sea funeral planner, you will not have to worry about anything in regard to weather and the overall ash scattering ceremony.
Burial at Sea in San Pedro, CA, is one of the most trusted and highly experienced funeral companies that helps families plan, arrange and conduct sea memorial services and funerals for their departed loved ones.
#5. The Condition of Cremains
Before heading out to the ocean, you should not forget to take a look at the condition of the cremains. If the cremation urn has been sitting in a place for weeks or months, it is possible for the ashes to clump together.
What if you open the cremation urn to release the ashes and the ashes will not come out because they have settled and become hard? You should never let this happen or the entire sea funeral will be derailed or the ash scattering will not happen as you desired. It is crucial to open the urn and check out the cremains before traveling out into the sea. At the same time, you should see to it that the urn is not very hard to open. If it is difficult to open, precious time will be wasted and the ceremony will be delayed. So, keep all these tips in mind.
#6. Ceremony Planning
An ash scattering ceremony can either be attended or unattended. If it is going to be an attended one, you should decide beforehand as to exactly how many people will be attending the ceremony. In fact, you should do advance planning for every detail of the funeral to avoid last-minute hassles.
First, you should dress yourself in a proper manner. It can be dangerous to walk on the deck wearing slippers. Since the ocean weather can be cold, you should dress in layers to keep yourself warm. Many people can get sea sickness when traveling in the ocean. If you have any attendee who has this problem, you should remind them to take the necessary medication before stepping onto the boat. Children should be monitored in a strict manner. It is always a great idea to tell all the attendees what to expect while traveling and during the sea funeral.
In any case, do not forget to prepare a speech or memorize a quote or poem that you may like to read out at the funeral. For expert planning and arrangement, reach out to one of our professionals at Burial at Sea.
Still Have a Question?
We offer all this useful information to help you plan a memorable and dignified send-off to your departed loved one. Scattering ashes at sea is a perfect way to create a final voyage for your loved one. We have talked about EPA regulations, biodegradable urns, boat hire for scattering ashes, weather and cremains conditions as well as the overall sea funeral planning. If you still have a question or look for a highly experienced funeral company in California, head over to Burial at Sea. We specialize in the planning, arrangement and conducting of both ash dispersal in the ocean and full body burial at sea off the Southern California coast.
For your free consultation, you can give our San Pedro office a phone call or write us an email using the contact form on our website.