Scattering Ashes at Sea | LA, San Pedro, Long Beach, Redondo Beach
Scattering ashes at sea has become the most popular burial at sea service in recent years. Ash scattering is a symbolic way to say the last goodbye to your loved ones and free their spirits in the ocean.
Famous people whose ashes were scattered at sea include John F. Kennedy Jr., Robin Williams, Janis Joplin, David Bowie, Neil Armstrong, and many more. According to EPA regulations, the ashes burial at sea should be done at least three nautical miles from land. Although the rules for scattering ashes at sea are less strict than full-body burial at sea, a funeral director might be needed to perform the cremation burial at sea. Burial at Sea Funeral Company in California will make sure to arrange everything for you.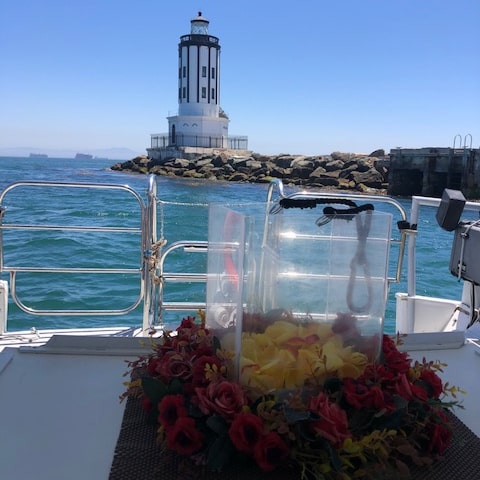 Ashes Burial Services
Sea burials divide into two categories: whole-body casket burial and cremation burial. In the latter, the cremations (cremated remains) of the decedent are either buried in cremation urns or spread on the water surface. To get to the burial location, you need to hire a licensed boat. Our charter boats can carry different groups of people of different sizes. The burial at sea cost differs based on the pact size: 1-6, 7-12, and 13-27. You can select from our many charter boats for scattering ashes.
We can also arrange unattended scattering ashes at sea funerals if you prefer to stay at the beach. The family and friends can watch at the shore while the captain of the boat performs the spreading ashes at sea.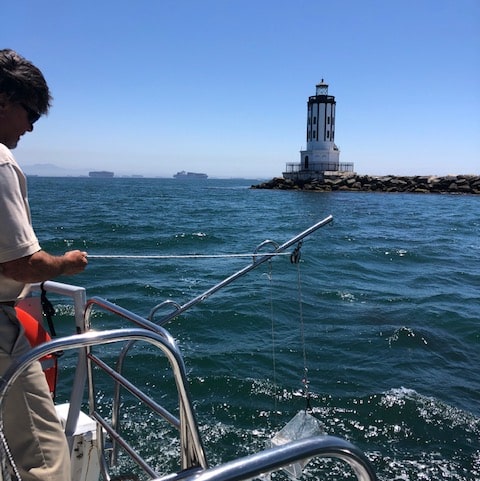 How Is Scattering Ashes at Sea Ceremony Performed?
Following the cremation process, the cremation ashes are received and put into cremation urns. According to the EPA rules, are the materials used should be biodegradable. For ashes burial at sea, we use biodegradable urns and baskets. If the family members or friends of the deceased person are willing to spread the ashes in the ocean, the captain will guide them.
Putting ashes in the ocean can also be done without scattering ashes. In this case, we will put the cremation ashes in a biodegradable urn or basket and throw them in the sea. The basket can be designed with decomposable flowers and wreaths.
The captain will recite a line, poem, or prayer before doing the burial at sea services. We can also play music of your choice. Friends and family of the departed person can throw flower buckets into the ocean after dispersing ashes at sea. You can let us know if you have other scattering ashes ideas.
Benefits of Cremation Ashes Burial at Sea vs. Land
OMany people see the ash scattering rituals as a symbolic way to liberate the spirit of their loved ones. In addition to spiritual aspects, scattering ashes at sea services have other benefits which include:
Less Expensive
The traditional funeral in the US costs between $7,000 and $12,000. Our burial at sea prices starts from $695. Depending on the plan you choose, the prices will change.
Less Time and Space Needed
Cremated remains take less space than the whole body. Since cemeteries seem to be crowded nowadays, ashes burial in the ocean seems to be the best option if you are looking for quick funeral preparation.
Eco-Friendly
If you are concerned about nature, water burials can be a good option for you. Throwing ashes at sea or using biodegradable urns and containers is safe for the environment. Cremation ashes will exclude the possibility of soil contamination caused by burial in the ground.
Schedule Scattering Ashes at Sea Services in California
Burial at Sea Funeral Company provides sea funeral services in California. Our office is located in San Pedro/Long Beach, and we have different locations across California including Dana Point, Long Beach, San Pedro, Redondo Beach, Los Angeles, and Catalina Island.
To find more information about our plans, boats, and memorial services, call us at … or send us a form regarding your funeral needs, and we will get back to you as soon as possible.
Call Us Now!
LOCATIONS WE SERVE - BURIAL AT SEA