Full Body Burial at Sea | LA, San Pedro, Long Beach, Redondo Beach
Burial services are of great importance since you are granting the last wish of your deceased loved ones. Full body burial at sea is a unique way to commemorate the memories of your loved ones and celebrate their lives for the last time in a memorable way.
Sea funeral dates back to ancient times, and US Navy has used it to honor the services of their personnel and veterans. It is available for civilians today in the case that you provide the required permits by the EPA. Burial at Sea funeral services in California will arrange an unforgettable funeral at sea by acquiring the needed permits and providing a dignified memorial service for your departed loved ones.
The funeral can be an attended or unattended ceremony. We have different boats designed to carry groups of people of different sizes to the burial location. Our vessels can carry a group of 1-6, 7-12, and 13-27 people. We can carry more people on board if requested.
The unattended funeral will be held at the shore with friends and family of the departed watching. The captain will sail the boat to the burial location and do the burial on sight while people witness at the shore.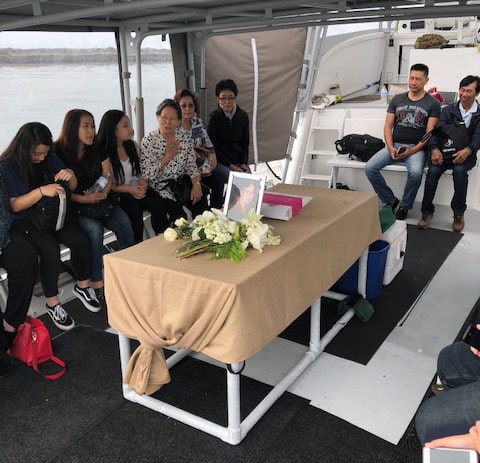 WHAT KINDS OF SEA BURIAL SERVICES ARE THERE?
Spread the remains of your late loved ones across the Pacific Ocean
Water burials can be done in two ways: full body burial and scattering ashes. In the latter, we spread the cremation ashes, but in the former, we bury the whole body in the ocean. According to the Environmental Protection Agency burial at sea regulations, the whole-body burial at sea in California should be performed at least three miles off the coast.
Get a Free Quote!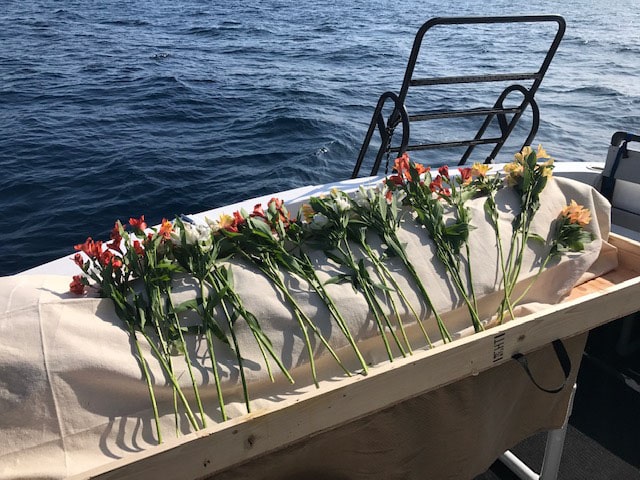 WHAT MATERIALS ARE USED?
Let the memory of your loved ones linger in the sea.
We use three types of containers for the sea burials: Caskets, Coffins, Shrouds. All the materials used in full-body burial at sea are biodegradable. You can choose different sea burial coffins or caskets that are eco-friendly and biodegrade in 3-6 months.
Call Us Now!
Benefits of Full Body Burial at Sea
By the numbers
Ocean burials are suitable for people who are living in coastal cities and more attached to the ocean. In this case, their memories will always be linked with the sea. Other pros of sea funerals are:
Less Time-Consuming
Since cemeteries have limited spaces, getting land for the funeral requires more time and effort. Oceans, on the other hand, have limitless space for burials, and you can select a sea burial location on short notice.
Affordable Costs
Burying people at sea is much cheaper than regular burial in the ground. Burial at sea costs can be different based on the type of funeral plan you choose. The water burial costs start from $695 to $1650 based on the type of charter boats you choose and the size of people attending the ceremony.
Environmentally Friendly
Burial in the ground will cause soil contamination since the body takes a long time to decay. Burial at sea will require less space and will cause less environmental pollution. The body will also be a food source for sea creatures.
Arrange a Full Body Burial at Sea
Funeral in California
Burial at Sea funeral company has been providing sea memorial services in California for many years. In addition to the sea burials, we provide more memorial services such as burial at sea prayer, funeral music, food, and other services at your request.
Our office is located in San Pedro/Long Beach, but we will arrange funerals on different shores across California, including Dana Point, Long Beach, San Pedro, Redondo Beach, Los Angeles, and Catalina Island. To get more information about the full-body burial at sea prices and locations, call us at … or send us a form, and we will provide you with the needed information as soon as possible.
Call Us Now!
LOCATIONS WE SERVE - BURIAL AT SEA