Biodegradable Wreaths for Burial at Sea
Sea burials and ash scattering ceremonies require a great deal of planning ahead of time in order to avoid any kind of last-minute discrepancies. Since this is a time when the family of the deceased loved one is in a state of grief, it is crucial to ensure every little detail of burial at sea is taken care of in a hassle-free manner. From boat hire for scattering ashes and the words of prayers to the casket and the wreaths for burial, it should all be conducted in a well-planned manner. Biodegradable wreaths and coffins are an important part of the funeral procedure, as it ensures pollutants and toxins do not cause harm to the ocean and marine life.
In this article, we'll discuss the importance of biodegradable wreaths and other products for pollution-free sea burial. Plus, you will get to know a lot more about flowers and wreaths used for ocean burials.
Significance of Funeral Flowers and Wreaths
Humans and flowers have an age-old connection. Right from birth till death, flowers and wreaths have long been used by humans to honor and dignify the deceased person and represent the circle of eternal life.
Funeral wreaths have a deep philosophical meaning. At a time of grief, it is very hard for the family of the departed loved one to express their emotions. Flowers and wreaths help the family express their emotions of grief and show their love and respect for the person who has passed away. Just like land burials, flowers and wreaths are used during sea burials and cremations at sea. The natural beauty that flowers carry helps diminish some of the emotional burden of the grieving family. When it comes to an at sea burial ceremony, the funeral wreaths need to be biodegradable so that they do not pollute the ocean in any way.
There are many ways in which flowers and wreaths are used during a funeral ceremony. If it is a burial at sea ceremony, the funeral wreaths are usually draped over the casket or the biodegradable coffin.
Some flowers associated with funeral ceremonies include:
Tulips
Carnations roses
Calla lilies
Daisies
Gladiolas
Golden lilies
Snapdragons
Sunflowers
Irises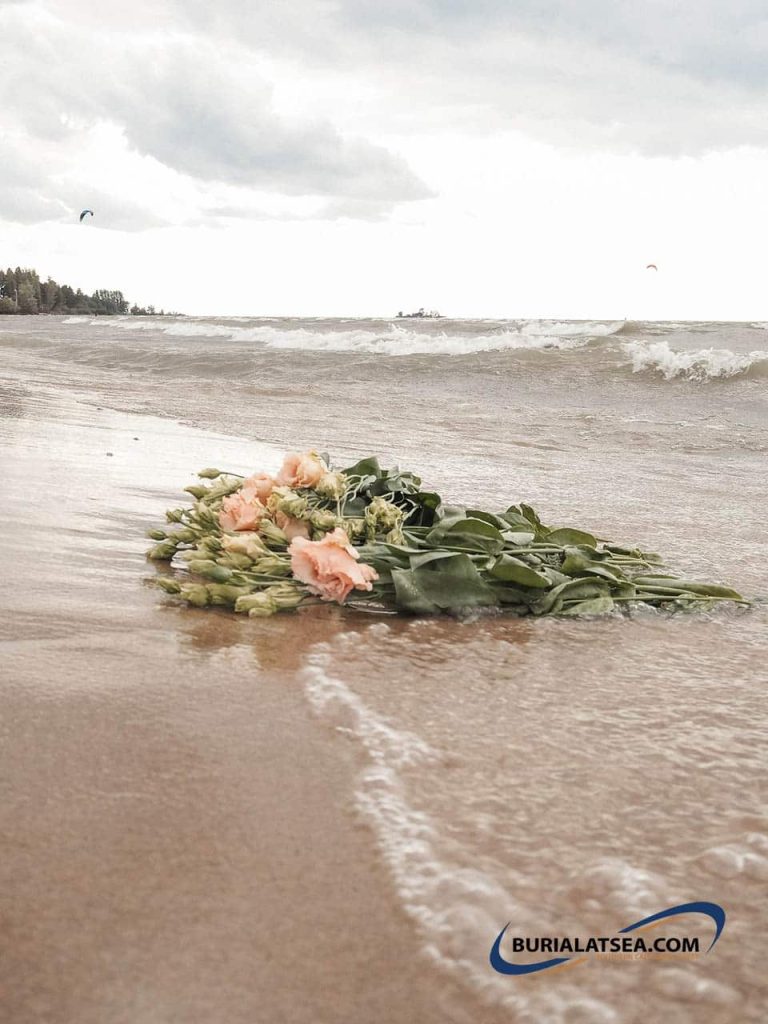 Today, you have no dearth of floral options for scattering ashes at sea or full body burial at sea. Whether it is the type of flowers or the floral arrangement, you can have it done as per your choice and preference.
Biodegradable Wreaths and Flowers
When planning a whole body seal burial or cremations at sea, it is important to adhere to the maritime laws in a strict manner. You should not do anything or use a product that causes damage to the ocean.
Often, it is seen that flowers used during ocean burials or sea scattering are not placed appropriately.
Compared to other funeral ceremonies, ocean burials need a great deal of attention and planning. When you place an order with the florists, you should make sure the service provider has complete knowledge of sea burials and floral products that are suitable for the same. Last minute hassles will throw water on your efforts and ruin the ceremonial planning. That is why it is extremely important to get funeral wreaths that are made from natural materials.
In order to keep the ocean pollutant-free, you should only use biodegradable flowers, wreaths and floral products. Biodegradable means the wreaths and floral products will decay naturally without causing any harm to the ocean and the aquatic life, once their useful life is over.
Where to Find Biodegradable Floral Products
Unlike land burials, planning a sea burial requires experience. If you have never attended a cremation burial at sea or whole-body sea burial, you may not have a lot of knowledge about the same.
In order to comfortably plan a sea burial for your deceased loved one, the best idea is to seek the help of an experienced service provider. Burial at Sea is one such company that helps plan and arrange scattering in ocean and full body sea burials in Southern California Coast. The best part is that the service provider takes care of every detail of a sea funeral. This means you do not have to get in touch with several vendors to get the coffin, casket, wreaths, flowers, or hire a boat to scatter the ashes. Burial at Sea is a one-stop destination where you will have all your at-sea burial arrangement needs fulfilled in an appropriate manner.
If you do not want to run from one florist to another in search of biodegradable wreaths, flowers and other floral products, you should just hire a sea burial service provider and save your precious time. In addition to the funeral wreaths, the company will decorate the charter boat with flowers too.
Burial at Sea in San Pedro, CA, provides a wide range of biodegradable floral products for at-sea funeral ceremonies. You can specify the colors and designs you prefer in advance to get the desired floral solutions. The biodegradable wreath we provide is made using grapevine without glue. For more details, feel free to talk to one of our ocean burial planning specialists.
Tips for Selection of Funeral Flowers
A sea funeral or a full-body sea burial is carried out to honor the deceased loved one as well as make the event memorable. That is why selection of flowers for the funeral becomes important.
Wreaths and flowers add beauty to the ocean funeral ceremony. Whether it is the floral decorations on the charter boat, wreaths draped over the casket or the flowers floating in the ocean, all of this together creates a lovely view. The flowers are selected in order to reflect the personality and life of the departed person. Above, popular traditional choices for flowers have already been listed. You should decide the colors and types of flowers in advance and send the details to the sea burial company so as to get the planning done in a proper manner.
When a family member or a friend takes a beautiful wreath and places it on the casket or releases flowers and petals in the ocean, it symbolizes the individual's love and respect for the deceased loved one.
When selecting flowers for a sea funeral, there are a couple of important tips that you need to keep in mind. Based on its type, every flower has a certain symbolic meaning attached to it. For example, lilies are known to symbolize purity at funeral ceremonies. Likewise, you need to know what a specific funeral flower symbolizes and then select a flower as per the life and deeds of the departed loved one. In the same way, you should choose a specific color as well. Style and cost of the wreaths and floral decorations are other factors you should consider.
The wreaths and flowers that you select should reflect the life of the deceased loved on, have meaning to the family and look visually appealing when floated in the ocean. For more expert tips, feel free to reach out to one of our highly experienced sea funeral planners at Burial at Sea.
Tips on Finding the Right Words to Say
EPA Requirements for Ocean Burials
For conducting sea burials or spreading ashes, you will need to fulfill all the rules and regulations set down by the EPA. For example, sea burials must be conducted at least three nautical miles from the sea shore. Plus, it should be done at least 600 feet deep. Depth requirement is applicable only in the case of full body sea burials. It does not apply for ash scattering in the ocean. Plus, all the materials used during the casket burial at sea or cremations at sea must be biodegradable. That is why you need biodegradable coffins, biodegradable wreaths and other memorial items.
As per the EPA rules, only human remains can be buried or the ashes can be thrown in the ocean. For further details on obtaining the permit and other regulations, get in touch with one of our sea funeral planners.
Need Expert Help for a Sea Burial?
By planning a perfect sea burial for a deceased, you will express your deep love and respect for the person. Burial at Sea in San Pedro, CA, helps families all over Southern California plan a memorable voyage for their departed loved ones. From full body sea burials and ashes scattering to charter boats on hire, we will take care of every detail in the most appropriate and satisfying manner. You don't have to look anywhere else to get all the degradable materials including wreaths, caskets, urns and other memorial products. With our experts by your side, you will have every funeral detail taken care of exactly as you prefer.
The locations we serve include San Pedro, Long Beach, Santa Catalina, Redondo Beach, Point Vicente, PT Fermin and Los Angeles. Give us a phone call or send us an email for your free consultation.