Pre-Arrangements for Burial at Sea
All important things in life require proper planning in advance. Though it takes a bit of time and effort to do that, it is truly worth it. Pre-arrangement gives you better control and makes an event memorable. But what about doing some advance planning for funeral ceremonies? When it comes to burial at sea or scattering ashes at sea, most of us are not ready. Of course, this is a grieving time for the family of the deceased and it is hard for people to prepare for funerals. However, planning ahead of time for ocean funerals and burials can save families a lot of time and last-minute hassle. The biggest benefit of pre arranging things is that you will have the entire event go smoothly with lots of wonderful memories to cherish.
So, let us discuss how to lay a perfect foundation for a burial at sea in order to make the last voyage one of the most memorable.
Key Challenges of Performing an Ocean Burial
It is crucial to understand what challenges conducting an at sea burial brings and how you can meet them all in a proper manner. Here are some of the most important ones among them along with useful guidelines.
Finding an Appropriate Location
As per the EPA guidelines, you need to find an appropriate location for carrying out the ocean burial for the departed loved one. This is one of the key rules among others that need to be followed. For example, the Southern California coast has a number of sites where sea burials can take place.
Whether you want the burials to be conducted off the coast of Long Beach, San Pedro, Redondo Beach or Catalina Island, you should make sure that the burial by sea site is located 3 nautical miles from the shore. But this is not the only guideline that you must follow. Along with this, you also need to ensure that the depth at the chosen site of burial in the sea is at least 600 ft. A funeral company will broaden your knowledge on all the EPA regulations and guidelines.
If you have a question about the location for sea burials, reach out to one of our experts at Burial at Sea in San Pedro, CA.
Getting a Casket or Coffin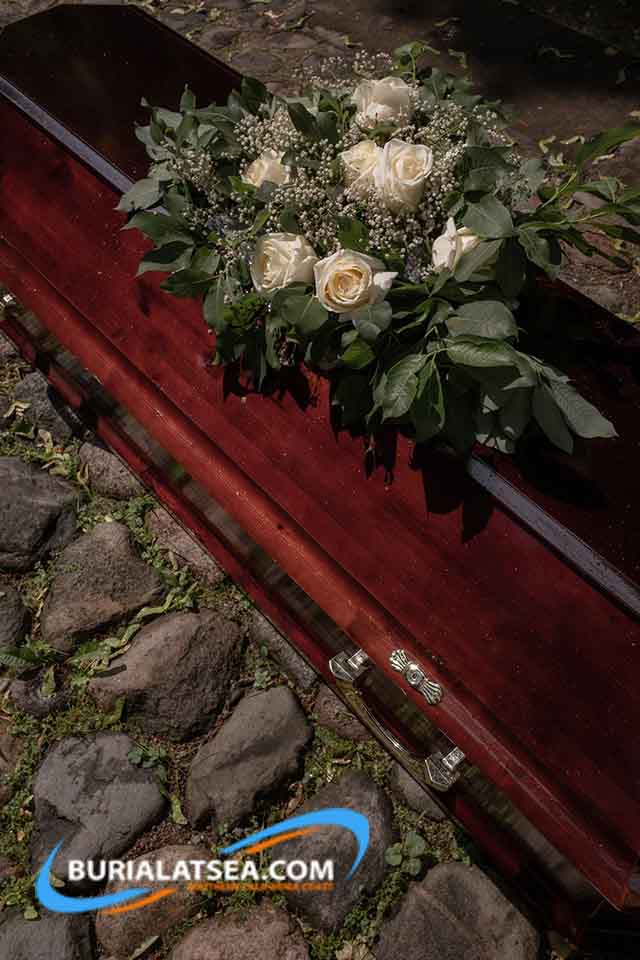 For burials in the sea, you will need to arrange a casket or coffin in which to place the body of the departed loved one. However, it should not be just any type of casket or coffin. You must make sure that these as well as every other product that is used during the sea funeral is biodegradable. You have a responsibility to protect and preserve the oceanic environment. That is why the EPA has laid out clear regulations for not using materials such as plastic. You can only use biodegradable caskets, coffins, and burial cloths for the ocean funeral.
Read more about:
Hiring a Boat
Chartering a boat or vessel is a key requirement both for ocean burials and ashes buried at sea. After an appropriate site has been selected or designated for the funeral ceremony, you will need a boat to travel to that specific location. You may need to cruise along the coast for a distance of 20-30 miles. The hired boat will carry the body of the departed person inside a casket or coffin as well as family members and friends, if it is going to be an attended one. Otherwise, you can opt for an unattended sea funeral without near and dear ones on board.
Unlike planning a traditional burial, doing all the arrangements for a burial at sea ceremony can easily overwhelm you. However, there are several companies that help families plan, arrange and organize every bit of full body burials at sea or scattering at sea ceremonies in a proper manner. It is always best to seek help from a funeral company for correct preparation.
Pre-Arrangement Ocean Burial Checklist
The best thing that advance preparedness does is that it brings peace of mind. If you plan to conduct a full body sea burial or ashes burial at sea, you should try to plan ahead and pre-arrange the entire ceremony. In a time of grief, pre-arrangements will feel like a big relief for the family.
Getting Started
Pre-arranging things for a funeral ceremony begins with making a list of all those people who you should notify in the event of a medical emergency or death. So, you should write a short notice that you will send to people to invite them to the memorial at sea or ashes burial at sea. You should also include information about how and where the burial ceremony will take place.
Select the type of service you would like to use for conducting the funeral ceremony for your departed loved one. If you choose sea burial, you will need to plan and arrange all the key things in a proper manner.
Full Body Burial or Spreading Ashes at Sea
When it comes to choosing the ocean as the final resting place, you should decide whether you want a whole body burial at sea or scattering at sea. No matter which of these you select, you will want to choose a specific location as well as arrange caskets or urns made of biodegradable material. For ashes burial at sea, you will need to use urns. There are many different types of urns available out there for cremations at sea. You should decide and choose an urn you like best. A full-body sea burial will require a lot more planning than a sea scattering.
One key decision to make is whether you want the memorial at sea ceremony to be attended by family and friends or not. Based on your preferences, you can plan an attended or unattended service.
If the whole body burial at sea is going to be an attended one, you will need to decide about the number of attendees. Depending on exactly how many people will attend the funeral ceremony, you will need to hire a boat. Plus, you will need to pre-arrange for things such as wreaths and floral products, and music. You can plan an attended sea funeral for 6-25 people.
Other Important Arrangements
Among other pre-arrangements for burial, you will also need to take care of the funeral planning documents. Most of all, you or a representative should have all the important telephone numbers and account information of the deceased loved one. Post the death of your loved one, you should be able to contact different services and cancel the deliveries to avoid any kind of hassle.
Selecting a Funeral Provider
Funeral arrangements are not always the same for every departed person. Based on the exact needs and preferences of the loved one who passed away and the grieving family, funeral arrangements might vary. First, you need to understand how exactly you want the ocean burial to be conducted and then start planning for every bit of the funeral ahead of time. That is exactly where the role of a funeral provider or a funeral planning company comes in. If you want to carry out a full body burial at sea or spread ashes at sea, you should reach out to a funeral company that specializes in planning, arranging and organizing ocean burial services.
Before the planning begins, you should discuss all your exact needs and preferences with the funeral company you choose to work with. Both of you should be on the same page in order for the at-sea burial to go exactly as you want and in accordance with the desires of the deceased loved one.
Cost and Expenses
How much a sea burial service is going to cost you is a key concern. When you get in touch with a funeral service, you should talk about your budgetary considerations as well. Full body burial at sea cost more than ashes burial or sea scattering. The actual cost of the ceremony depends on what exactly you want to include and how you want the memorial service to be carried out.
The cost of a sea burial may vary from one state or location to another, in conformity with local regulations and requirements. Right from obtaining permits and fuel to crew costs, the expenses will vary.
When it comes to boat hire for scattering ashes or whole body burial at sea, different types of vessels will be scheduled. The type of boat you will hire depends on the size of the group that will attend the funeral and the overall voyage planning. If the number of attendees is large, a bigger crew will be required. In many cases, docking charges will also be reflected in the total burial cost. It is important to work with a funeral company that is insured, highly trusted, and experienced.
If you want to bury a deceased loved one off the Southern California Coast, you should get in touch with Burial at Sea, based in San Pedro, CA. The funeral company offers high quality full body burial at sea and ash scattering at sea while abiding by all the federal laws and local regulations.
Funeral Expense Insurance
End-of-life expenses can easily become a financial burden for the grieving family. Just like you pre-arrange things for a smooth and memorable ocean burial ceremony, you should also do some planning for managing the costs associated with the entire funeral procedure. This is exactly where burial insurance policies come in. A burial or funeral expense policy covers all the costs associated with carrying out a burial service as well as many end-of-life costs. These policies pay for coffins, caskets, medical bills, memorial at sea services, boat hire etc.
If you plan to pay all the costs of a sea burial service without any worry at all, you should definitely purchase a funeral expense insurance policy. Post the death of a loved one, the insurer will either pay the bills of the funeral home directly and issue a cash payout to the loved one's family.
Make sure you choose the right burial insurance plan and read all the terms carefully before signing on the dotted line.
Talk to a Sea Funeral Specialist
Conducting a sea funeral is not just about renting a boat and traveling out into the ocean. It takes effort and time to properly plan every detail of a burial at sea ceremony while following maritime laws. Pre-planning the entire event will ensure that your last voyage is carried out in a peaceful manner without facing any kind of financial burden in a time of sorrow and grief. Burial at Sea in San Pedro, CA, is the ideal funeral company that will plan, arrange and organize your sea funeral ceremony exactly as you desire. We provide full body burials and ash spreading off the coast of Redondo Beach, Long Beach, San Pedro, Los Angeles and Catalina Island.
To find out more, you should call our office phone number or simply fill up the contact form given on our website.