How Long Does it Take to Complete a Burial at Sea?
If you wish to organize a burial at sea or ash scattering at sea, it is possible to conduct them for your departed loved ones. Though land burials and cremations continue to remain the traditional ways to carry out funerals, ocean burials allow the grieving family to give their deceased loved ones a distinguished, impressive, and memorable final voyage. What used to be a privilege only for the US Navy is available today for the common people. However, full body burial in the deep coastal waters and ashes buried at sea must be conducted in adherence to the federal laws, state regulations, and local rules and guidelines. Maritime laws have been framed in order to protect the ocean environment against pollutants.
In this article, we will discuss how much time a complete burial at sea takes so as to broaden your understanding and knowledge. When you are well-informed, you will be able to make the right decision.
So, continue reading!
Understanding the Ocean Burial Procedure
In order to understand how much time a burial at sea can take, it is important to understand the various steps of the entire procedure. Unlike a land burial, an ocean or deep sea burial is a complex procedure, which requires proper planning to carry out all the steps in a proper manner.
If it is the first time you are planning an ocean burial, you may not be familiar with how it is conducted. With experts such as Burial at Sea by your side, you will find it easy to complete the memorial at sea. Based in San Pedro, CA, Burial at Sea is a funeral planner that specializes both in full body sea burial and spreading ashes at sea. It is the right place to gather essential information as well as for professional help with the arrangement of sea burials.
When a loved one passes away, the first thing that should be done is to collect the death certificate. You will receive the certificate after registering the death of the person with the registrar. Once you have the death certificate in hand, you can proceed with the planning and arrangement of the sea burial. A medical review may be required in order to ensure the deceased body is free from any kind of contagious disease or infection. You will then need to get in touch with an ocean funeral planner to carry out the crucial steps of the procedure. For those planning for sea burials off the California Coast, Burial at Sea is the ideal place for expert help.
The funeral company will assist with the following:
Complete the documentation

Obtain a sea burial license

Provide a biodegradable coffin

Charter boats

Provide necessary transportation
A funeral company will obtain all the necessary permits and approvals as well as get a biodegradable coffin or casket ready for whole-body sea burial. The service provider will also arrange charter boats for scattering ashes and ocean burials. Get in touch with one of our specialists for more information.
Sea Burials are Less Time-Consuming than Traditional Burials
There are several differences between a sea burial and a land burial ceremony. Since the processes for these two types of funerals are not the same, the duration to complete each of them is also different.
When it comes to a traditional land burial in a cemetery, the process can usually take a longer time to complete. This is because of the limited space that cemeteries usually have, regardless of where you are located. In Southern California too, getting land for a funeral ceremony takes a lot of time and effort. On the other hand, sea or ocean burials take less time. The ocean simply has no dearth of sites for burials. In fact, you do not have to spend weeks looking and selecting a place for burial in the ocean waters. All you need to do is reach out to a sea funeral planning service and they will get everything done for you including all the arrangements as well as the selection of a proper site in the deep waters of the ocean.
Sea burial services will also provide you with the exact coordinates of the burial site so that you can keep the location as a record and revisit later whenever you feel the need in the near future. If you are in search of a sea funeral company that provides burial by sea, scattering ashes in the ocean and boat hire off the Southern California coast, get in touch with Burial at Sea in San Pedro, CA.
Our company specializes in arranging and organizing full-body sea burials and ash scattering at sea on various shores across California including Long Beach, Redondo Beach, Catalina Island, Dana Point, etc.
What Takes Time in Sea Burial Planning?
It is not the commitment of the dead body to the sea, which takes the most time. In fact, it is actually the planning and preparation that go behind it all. For example, creating a proposal and getting the MPRSA general permit can take some time. The proposal must be prepared in adherence to the maritime laws and regulations in order to protect the oceanic creatures and environment.
If you lack knowledge about how to plan a sea funeral, you might end up spending more time on it than usual. That is why it is very important to seek the help of professionals who specialize in the job.
After the sea funeral is completed, some documentation work still remains to be done. Post-burial, you need to report to your local EPA office and submit with them all the details of the ocean funeral event. The office requires the grieving family to submit photos and videos from the sea funeral in order to prove that the entire procedure was carried out as per laws and regulations. So, it is crucial to not violate any of the federal, state, or local laws, rules, and guidelines. This is one more reason to conduct the entire event with the help of professionals.
If you want more details on this connection, reach out to one of our experts at Burial at Sea in San Pedro, CA. Our professionals will explain everything in complete detail for your understanding and help.
Advance Planning is Key!
Though sea funeral companies can arrange sea funerals at short notice in many cases, it is always best to plan ahead.
Most ocean funeral companies will be able to organize ash scattering at sea ceremony in a couple of hours. This is because these sea memorials and cremations happen without the presence of the dead body, which has already been buried or cremated somewhere else. But a sea burial means the body of the deceased will be committed to the sea as per federal, state, and local laws.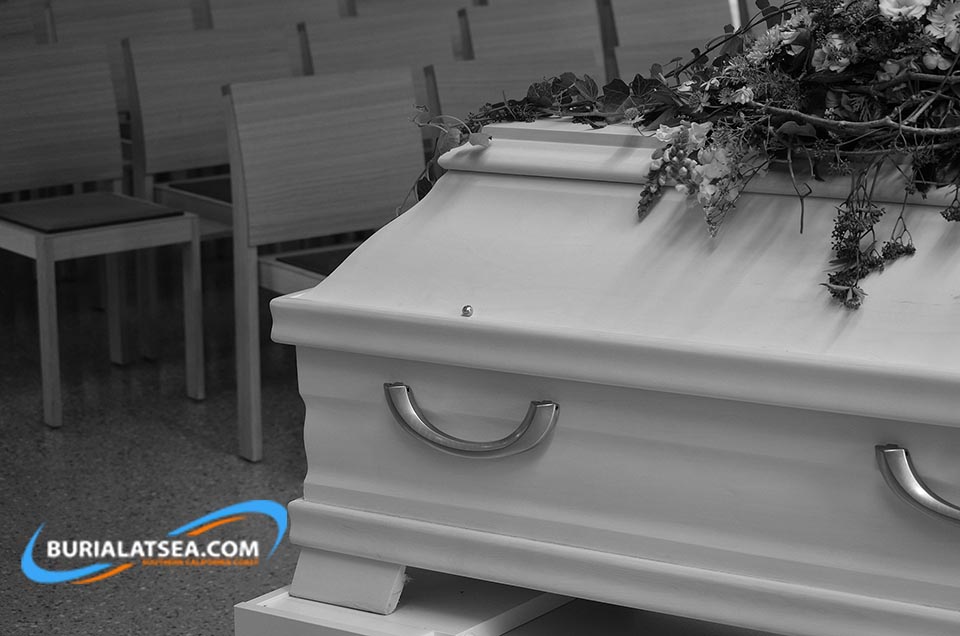 That is why a full-body sea burial needs a great deal of planning. Every detail of the funeral ceremony needs to be planned in a proper manner so that there are no last minute hassles. Even if it is a small issue at the last minute, it can take away the honor and dignity of the entire ceremony. Right from placing the dead body in a casket or coffin and taking it to the ocean via a vessel and arranging all the wreaths and floral products to taking care of even the smaller details, each of these should be planned ahead of time. Sea funeral companies have sound expertise in such burial planning and they will carry out everything properly.
With a reliable sea funeral planner by your side, all you need to do is decide whether the at sea burial ceremony will be an attended one or an unattended one. The planner will take care of everything else.
Planning a Sea Burial Off the California Coast?
Sea burials and memorial ceremonies are conducted in various countries of the world including the USA, UK, Australia, Canada, etc. Every region and location has its own specific set of laws and terms. Based on where you live and want the deep sea burial or dispersing ashes at sea to take place, you will first need to familiarize yourself with the laws and then follow them strictly.
If you are in any part of Southern California, Burial at Sea in San Pedro is the right place to seek expert help for the planning and arrangement of sea funerals and cremation ceremonies. The funeral company provides a whole range of services to help families organize the funerals of their deceased loved ones at sea in a proper manner without missing out on any of the smaller details. The funeral company specializes both in casket burials at sea and scattering ashes at sea off the coast of San Pedro, Redondo Beach, Catalina Island, Los Angeles, etc.
Talk to a Sea Funeral Specialist
Based on what your specific sea burial or sea scattering requirements are, it can take anywhere between a few hours to a couple of days to complete the entire planning of the procedure. If you still have questions or need expert help to conduct a full body ocean burial or as spreading at sea, head over to Burial at Sea. With its main office in San Pedro, CA, the funeral company organizes sea burials and memorials along the coast of Southern California.
For your free consultation, feel free to give our office a phone call or write us an email using the contact form on our website.