How Do You Arrange a Burial at Sea?
Sea burials are not just for the deceased military personnel. Today, anyone can plan to bury their departed loved ones in the ocean. Whether you want a whole body ocean burial or ash scattering at sea, you can plan the entire funeral ahead of time in a proper manner. In order to arrange a burial at sea, you will need to complete a number of key formalities in your state. If you look for a full body burial, you will need to comply with all the maritime regulatory requirements. In fact, a great deal of planning will need to be done to ensure the entire ocean funeral ceremony is conducted without any last minute hassles while making it memorable.
So, the big question is what steps you should take in order to arrange a sea burial in a proper, dignified and memorable manner. Given below are some of the most useful tips to help you plan open sea burials.
Get Necessary Permissions
Ocean burials are not the same as land burials. Every country has its own set of laws and regulatory guidelines to prevent any kind of harm to the ocean environment. So, the first step is to locate the EPA regional office in your area and get all the necessary permissions from there for the sea burial of your deceased family member or friend. If you are in California, you should visit the official website of the United States Environmental Protection Agency.
In particular, you will need to obtain a general permit for conducting the burial of your loved one in open ocean waters.
Just like full body burial at sea, dispersing ashes at sea is also subject to EPA laws and regulations as well as state laws. Though states may impose their own regulations, there is no way they can ignore or bypass any of the federal regulations. At present, the EPA does not have any provision for burials of pets in the ocean. There are many other environmental guidelines that you will need to familiarize yourself with for a hassle-free sea burial or ash scattering at sea. Your application to the EPA for approval should include the entire plan of the at-sea burial including what kind of container you will use and how you will make sure that it sinks down to the bottom of the ocean and stays there in one piece, permanently.
After the sea burial has been performed, you will again need to submit a report to the EPA sending them images and videos as evidence that the funeral was carried out exactly as per the proposal. If you do not want to violate any of the maritime guidelines, both federal regulations and state and local guidelines in your state and get yourself into trouble as a result, you should always abide by all the official rules and guidelines for ocean funerals in a strict manner.
Place the Body in a Casket
You will need to get a casket for placement of the dead body. Based on the laws in your state, you can either wrap the body in a biodegradable casket or a burial shroud. For sea burials off the southern coast of California, either of the two aforesaid methods can be used for full body sea burials.
Whether it is the coffin or the burial cloth and other materials, all of these need to be biodegradable as per the regulations. Using biodegradable materials ensures that there is no harm done to the ocean. When you select the ocean as the final resting place for your departed loved ones, it is also your duty to keep the ocean free from any kind of toxins and pollutants that ocean burials can lead to. For all kinds of biodegradable products and materials for funerals at sea and ash scattering, you should reach out to Burials at Sea in San Pedro, California.
In some states, it is an essential requirement for the casket to weigh four times the weight of the deceased person's body. Plus, the casket also needs to be secured across its length and top to bottom.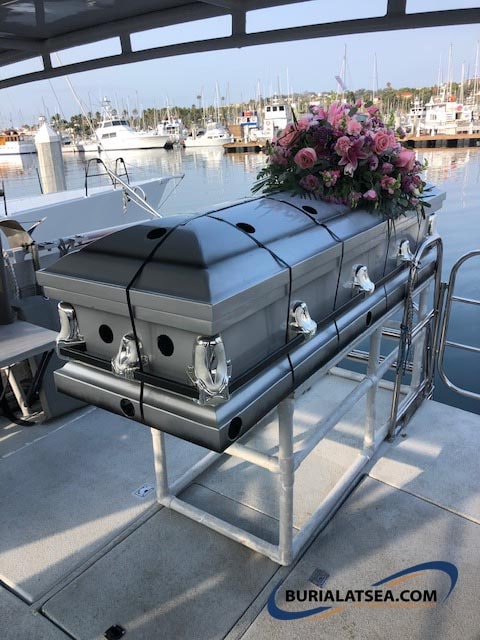 If it is a whole body burial at sea, it is crucial to ensure the casket does not come afloat after the funeral. The casket needs to have a few holes both in its bottom and in its lid. This ensures the casket sinks down fast and there are no chances for it to come back up again. Permanent sinking of the casket to the ocean floor is a crucial guideline that must be followed in open sea burials.
Find a Site for Ocean Burial
When it comes to ocean burials, protecting the ocean environment is always a topmost priority. That is why the burial site is of important concern. The location where the burial will take place should be selected as per the maritime regulatory guidelines of the federal and the state government.
In the United States, the EPA has put forth clear guidelines concerning the site of a sea burial. As per the rule, the body of the deceased must be taken at least three nautical miles (3.5 miles) out into the sea. In addition to this, the body needs to be buried at a depth of at least 600 feet. Based on where exactly you are conducting the funeral, you may be required to abide by even stricter guidelines in terms of how far you need to be from the sea shore and at what depth the body should be buried. These laws are made in consideration of the depth of water in a particular area. Don't be surprised if you are directed to travel more than 25 or 30 miles to find a proper site for the ocean burial of your departed loved one.
If you look for an open deep sea burial or releasing ashes in the ocean in southern California coast, head over to Burial at Sea. The ocean burial company specializes in planning and arranging burials off the coast of Long Beach, Redondo Beach, Los Angeles, San Pedro and Catalina Island. You can also revisit the "gravesite" of your departed loved one later, as the planner will give you the exact coordinates (latitude and longitude) of the burial location.
Hire a Charter Boat
To take the body of the departed person or the cremated remains out in the sea, you will need to hire a charter boat. Once the boat has taken you to the burial site, you can go on with the funeral ceremony.
Before you hire a boat rental to scatter ashes or bury the whole body, you should find out what your exact needs are. You will need to decide how many people will attend the cremation burial at sea or whether this will be an attended or unattended ceremony. If you will take family members, relatives and colleagues to the burial site, you will need to opt for a boat that can easily accommodate all the attendees. Likewise, an unattended funeral ceremony will require a smaller vessel. Most importantly, you need to make sure the charter boat you hire has a highly experienced captain and well-trained crew on board for a smooth ride out in the ocean.
If you plan a casket burial or spreading ashes at sea in Los Angeles or San Pedro in the southern Californian waters, you should hire a boat from Burial at Sea. The ocean burial planner company provides a coast-guard approved vessel called Asante, which has a large deck with an accommodation capacity of 25 guests. For further details, reach out to one of our specialists.
Choose the Words You will Say
One of the most crucial things you should not forget is to decide what exactly you will say during the ocean burial to honor the soul of the deceased loved one. You can read out a poem or a quote. Or, you can simply say a few, meaningful words as per your thoughts and religious beliefs.
If you like quotes, you will find plenty of relevant quotes. You can use these before as well as after the sea funeral. There are multiple short and beautiful poems that relate to the departure of a soul from this world to the hereafter. If you are a Christian, you can say some verses from the Bible. Whichever poem, quote or words you choose to say, make sure it is relevant and comforting.
If you are not sure what words you should say, we have an entire blog post dedicated to this topic. You can read the post here.
Need Help Planning a Sea Burial?
Whether a full-body sea burial or scattering at sea, it requires proper planning and arrangement ahead of time. When you are grieving the loss of a loved one, you may not want to deal with all the hassles of an ocean burial. The best advice is to get in touch with a highly experienced and trusted sea funeral planner such as Burial at Sea in San Pedro, CA. Our professionals will handle everything from EPA permits and charter boats to biodegradable casket and floral products while strictly adhering to the federal and state maritime regulatory guidelines.
For your free consultation, you should call our office or write us an email using the contact form given on our website.