How to Choose Between Burial and Cremation
Burial and cremation both have their own significance and benefits. Whether a grieving family will conduct a burial ceremony or cremation ceremony is a deeply personal decision. If you look at the data from the last couple of years, you will find that cremation has surpassed burial in terms of popularity. To choose between burial and cremation and make the right decision, you will need to take various key factors into account. Most of all, you need to get a crystal clear understanding of the processes involved in each of the two. If you find it tough deciding which one between these two is the ideal choice in a specific situation, this article is for you.
Being a sea funeral company, we will discuss in this article how a burial is different from a cremation and weigh in the various pros and cons of each to help you make a well-informed decision.
What is a Burial Ceremony?
During a burial, the body of the deceased person is buried either in a plot of land or in the ocean. The latter is called burial at sea. First, a burial plot or a burial site in the sea is selected and then the body is taken there in a casket or coffin. The body is finally lowered into the earth or into the ocean.
If it is an ocean burial, the body of the departed loved one will be first placed in a casket or coffin, made from natural materials. Then, you will need to hire a boat service to take the body to the designated site in the ocean. Finally, the body will be lowered into the ocean waters in a way that it sinks to the bottom of the sea. This can be an attended or an attended sea funeral as per need. It is common for the grieving family and friends to read out some quotes or poems in honor of the deceased person. For sea burials, there are specific rules to be followed.
Just like a traditional land burial, the body buried in the ocean finally decomposes and breaks down gradually. Burial at Sea in San Pedro, CA, specializes in conducting burial at sea ceremonies in a proper manner.
What is Cremation?
A cremation process involves burning of the deceased person's body. After the funeral service has been completed, the grieving family is left with the cremated person's ashes that is stored or transferred into an urn.
First, the body of the departed person is brought into the crematorium in a casket or coffin. It is then placed on a raised platform for the cremation or burning process to begin. Before the body is burnt and reduced to ashes, the crematorium officials use curtains or lower the body so it is not visible. After the funeral service is complete, the ashes are returned to the family of the cremated person. The ashes are given some time to cool down before transferring into an urn. The family can keep the ashes or scatter the ashes at sea later.
Burial vs Cremation:
How Much Does it Cost?
Conducting a funeral ceremony involves multiple expenses. Whether you plan to carry out a burial in the sea or scattering at sea, each of these will cost you a certain amount of money. If you are not sure about how much a burial or cremation ceremony will cost, let us compare the two.
One of the biggest reasons behind the increased popularity of cremation over burial ceremonies is the cost factor. In the United States, the average cost of a traditional land burial is around $5,000. The cost can go up further, depending on where you live or the cost of the burial plot. A cremation in America will cost up to $2,500. In many places in America, you can have a cremation with a memorial service conducted for just $2,000. This is exactly why conducting a cremation ceremony happens to be an economical choice for families in America. A cremation costs less because the body is not embalmed or dressed. Plus, the cremation is done while keeping the body out of sight. Also, you can reduce the cost of a cremation even further by not having a memorial service at the crematorium.
When you want to choose between a burial and a cremation ceremony, taking the cost into account can be of help.
If you plan to arrange an ocean burial or memorial at sea, you can get it all done while spending less than you do in traditional burials. Spreading ashes on the sea cost much less than a full-body burial at sea. To find out exactly how much each of these will cost, get in touch with one of our experts at Burial at Sea, one of the most trusted sea funeral planners in Southern California.
Environmental Impact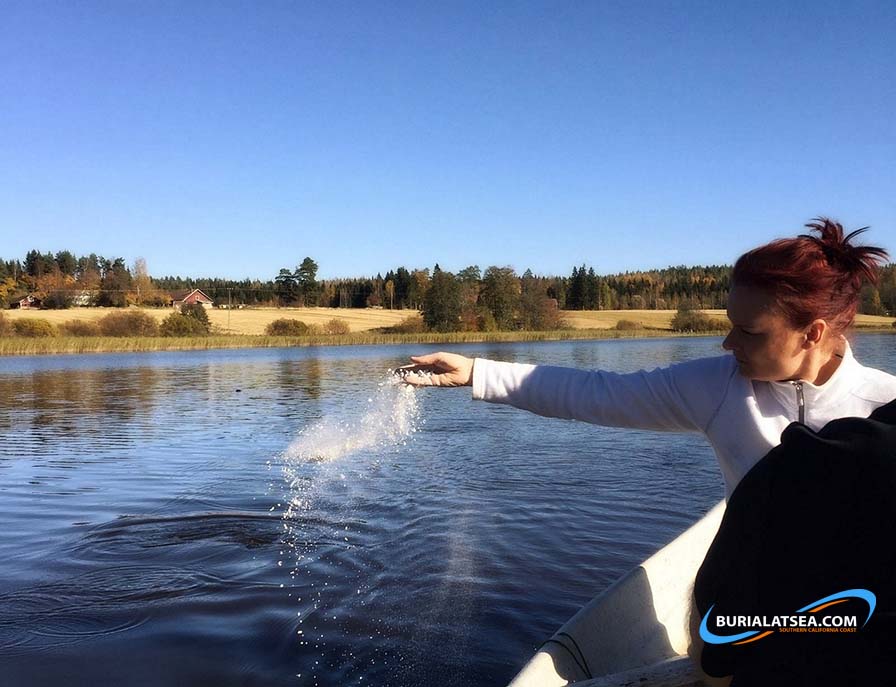 There are several ways in which humans make a direct or indirect impact on the environment. Even when it comes to a burial ceremony or cremation, the impact on the environment is a key concern.
Many families want to choose an option that makes the least amount of impact on the environment. If you too care about the environment and the planet, you will most likely go for an eco-friendly option. Therefore, it is crucial to find out which one between burial and cremation is natural and eco-friendly. This is actually a topic for debates and discussions. According to some people, cremation is a much better choice because it has the least negative impact on the environment. Over the past couple of years, natural and eco-burials have also emerged to help families go with burials, if this is what they prefer over a cremation.
For whole body burial at sea and spreading ashes at sea, you will need to strictly abide by some maritime laws and regulations. In order to keep the ocean pollutant-free, it is mandatory to use biodegradable materials including biodegradable caskets, coffins, urns, flowers, and wreaths among others.
Religious Beliefs
The selection between burial and cremation by families is determined by the religious beliefs they hold. Different faiths have different views in regard to whether a dead body should be buried or cremated.
If you want to pick one between burial and cremation of a departed loved one, you will most likely take your religious beliefs into consideration. For example, cremation was not allowed by the Catholic Church until the 1960s. Most of these churches back up the presence of the body to be present for the Funeral Mass. As per the Catholic Church, the cremated remains should either be stored or buried. It is not permissible to scatter the ashes after the cremation ends.
There are few religions that prohibit the ritual of cremation altogether. According to the belief of Orthodox Jews, Likewise religions such as Islam and the Eastern Orthodox also do not permit cremation in any way. According to these religions, the body deserves to be honored with a burial.
In many other faiths and religions, you will have more freedom to choose between a burial and a cremation ceremony. In religions where both the traditions are acceptable, families can do what they prefer more.
Personal Preference
If your religion permits you to choose between burial and cremation, you can plan to conduct any one of the two – as per your personal choice. Actually, the selection is about your deeply personal preference.
Seen from a personal point of view, cremation is a versatile option. After the cremation process is over, you can store the ashes in a container. Not just in one urn, but you can keep the ashes into multiple urns and distribute it amongst family members and relatives. As long as you keep it with you, the ashes will keep reminding you of the loved one you lost. There are many creative ways to keep the ashes with you all the time. For example, making cremation jewelry with the ashes is an ideal way to keep the ashes on your person. In fact, a lot of people in America make these unique jewelry in remembrance of the deceased loved one.
To other people, a burial ceremony is preferable. If you want a physical site where you and others can visit from time to time to remember the departed person, conducting a burial is a better option. In some cases, the departed person already had their own preferences before death. If this is the case, it is important to choose an option as per the wishes of the deceased person.
Do You Want to Arrange a Sea Burial or Ash Scattering at Sea?
Hopefully, you have now understood the difference between burial and cremation as well as the pros and cons of each of these.
If you plan to arrange a full body sea burial or ash scattering in Southern California coast, head over to Burial at Sea. Based in San Pedro, CA, our funeral company specializes in planning, arranging and performing ocean funeral and memorial at sea services. With our experts by your side, you do not have to worry about any thing or detail of the ocean burial process. Right from biodegradable caskets and coffins to charter boats for scattering ashes and whole body burial in the ocean, we will organize the entire funeral in a proper manner. Our aim is to help you have a perfect memorial for your departed loved one.
We provide burials off the coast of Redondo Beach, Long Beach, San Pedro, Los Angeles and Catalina Island. For your free consultation with one of our sea burial ceremony specialists, you can either call our office phone number or write us an email using the contact form on our website.