How to Spread Ashes in the Ocean
People's interest in burial and ash spreading at sea is constantly on the rise. In the United States, more and more opt for sea funerals, as it offers them a meaningful way to dignify the memory of their departed loved ones. Whether you plan to conduct a full body burial at sea or sea scattering, it is all possible and available for civilians and common people. However, a sea burial is not the same as a land burial. If you want to carry out an ocean burial, you will need to strictly adhere to a set of maritime laws and regulatory guidelines. Compared to a whole body burial at sea, spreading ashes in the ocean does not require you to obtain a license, but you do need to follow the maritime laws and other regulatory guidelines.
For a scattering at sea ceremony to go smoothly, you will need to do a little amount of planning in advance. The best idea to avoid all the hassles is to seek the help of an expert sea burial services. One of the most trusted service providers for sea funerals on the Southern California Coast is Burial at Sea. Feel free to talk to one of our specialists for more information.
Follow Local Water Laws
Spreading ashes in the ocean is lawful. But you should conduct it while respecting and following the environmental rules. According to the Environmental Protection Agency (EPA), USA, there are some specific guidelines that you should follow in order to carry out the funeral in a hassle-free manner.
As per the law, you cannot conduct sea scattering within 3 nautical miles of the sea shore. This means you are barred from spreading the ashes standing on the shore. Instead, you need to travel 3 nautical miles at a minimum from the shore out into the sea and then perform the dispersal of ashes. In addition to this, every state in the country has its own rules and regulations that you are expected to abide by. If you are in southern California, you will need to travel at least 460 mi from the shore to spread ashes in the ocean.
The EPA regulations prohibit anyone from scattering the ashes of their animals or pets into the ocean. For detailed information on local water laws, feel free to talk to one of our expert sea burial planners.
Hire a Boat to Scatter Ashes
In order to travel beyond the state-regulated waters, you will need to use your own boat or hire a boat. There are many service providers that rent out boat hire for scattering ashes and casket burial at sea. Based on your specific needs, you can hire one of these boats for a couple of hours.
A burial at sea ceremony cannot be conducted without a boat. You will need to charter a boat both for carrying the remains of your deceased loved one as well as those who will attend the memorial at sea. The size of the vessel you hire should be big enough to properly accommodate your needs. So, you will need to determine beforehand how many people will attend the ceremony. Or else, you can also plan an unattended scattering of ashes at sea in a small vessel. Based in San Pedro, CA, Burial at Sea is an ideal service provider to take care of all your ocean burial needs. The boat we rent out is called "ASANTE", which has a cruising speed of 23 mph and can accommodate up to 25 persons.
Don't hesitate to consult with one of our experts for details on the boat rental to scatter ashes in California waters including Long Beach, Redondo Beach, San Pedro, Los Angeles and Catalina Island.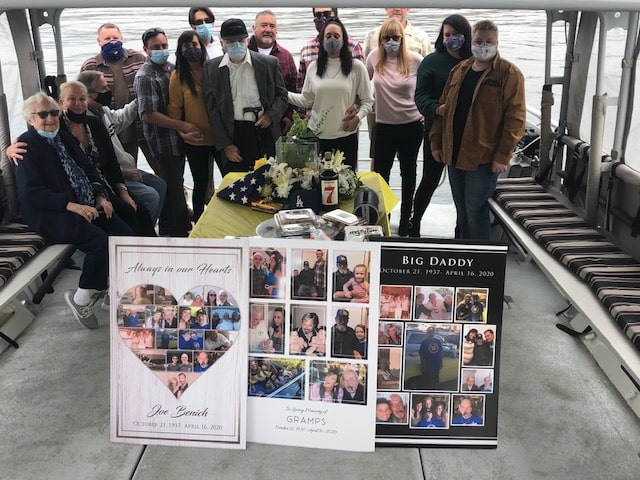 Use Biodegradable Urns for Sea Scattering
Whether you perform ashes burial at sea or a full body burial at sea, the maritime laws require you to use only biodegradable materials for the ceremony. You should never use any kind of objects that will not decompose. If you do so, you will pollute the ocean water and violate the EPA guidelines.
If you use a biodegradable urn to spread ashes in the ocean, the urn material will break down after some time. In case you want to use an urn made of metal or ceramic, you will need to take it back with you after the sea funeral is over. You can also spread flowers and wreaths across the ocean during the funeral at sea. However, you should clearly know and understand that you cannot throw into the ocean any object or parts that are non-biodegradable.
At a sea funeral company, you will be able to find all kinds of biodegradable flowers, wreaths and other products for use during a whole body sea burial or ashes buried at sea. If you are in search of scattering ashes at sea service, reach out to Burial at Sea in San Pedro, California.
Get an MPRSA Permit
A permit given under the Marine Protection, Research and Sanctuaries Act is known as the MPRSA permit. This permit will be required for dispersal of ashes into the ocean. To obtain it, you will first need to locate the local EPA office in your city and then fulfill the necessary application procedure.
If you hire a funeral company for sea burial, you should definitely enquire whether the company will obtain the permit on your behalf. Many sea burial companies include the MPRSA permit as part of their services. If you plan to save time and acquire the permit without any hassles, you should seek the help of a sea burial service and let them plan and arrange everything for you. Don't forget to inform the company as to how many people will attend the sea scattering.
Check Out the Weather
It is never a good idea to start traveling out into the sea without having a look at the weather forecast for that day. Not being aware of the weather can prove to be a big mistake and ruin all the planning.
Many times, the fast blowing wind creates a problem for spreading ashes in the ocean. Imagine opening the urn to throw ashes and the wind blows it back onto the attendees of the ceremony. When it comes to dispersing ashes at sea, you should not go out on a windy day. At the same time, you should have a good idea about the wind direction when you carry out the ash scattering. Scattering services at sea keep a close watch on the weather before the ceremony begins. Plus, professionals will guide you as to how exactly to stand and throw ashes into the ocean, so that the ash doesn't get caught by the blowing wind. When releasing ashes in the ocean, you should also stay as close to the water as possible to avoid blowback.
Therefore, make sure you remain well-informed of the weather before heading out into the sea for the funeral ceremony.
Be Prepared for the Boat Travel
Whether it is a casket burial at sea or putting ashes in the ocean, you as well as all the attendees should remain prepared for the journey. You will travel by a boat in the ocean to perform an ash scattering ceremony. So, you should dress yourself up in a proper manner and avoid making mistakes. For example, the attendees should not use slippers that might cause slips and falls. It is easy for boat decks to get slippery and you should certainly remain mindful of this.
Likewise, people who are prone to seasickness should not forget to carry the necessary medication with them. If you will travel with children, extra care and attention will be required for their safety.
For more on how to get ready for an unsteady boat trip in the ocean, feel free to talk to one of our specialists at Burial at Sea.
Bonus Tips
Sea scattering and at-sea burial ceremonies need accurate planning ahead of time. To make the burial smooth and memorable, you should pay careful attention to every detail. Based on your preferences, you can either choose to arrange an attended or an unattended scattering ashes at sea.
An unattended sea funeral is ideal in a situation where it is not possible for families and individuals to travel out into the sea. Still, family members can watch the entire sea burial ceremony from the sea shore. Before heading out, you should also remember to choose some nice words or a prayer for yourself or other family members to say at the ocean ash spreading ceremony. You can give a short speech, say a few quotes or recite a poem in the memory of the deceased person. In any case, don't forget to collect the certificate with the GPS coordinates of the ceremony, so that you can revisit the funeral site later whenever you want.
Talk to an Expert Sea Scattering Planner
If you still have a question in regard to ashes spreading in the ocean or need the help of an expert to plan and arrange the entire ceremony in a proper manner, reach out to Burial at Sea in San Pedro, CA. We specialize in conducting casket burial at sea and scattering ashes at sea while taking care of every little detail from getting the necessary permits and boat rental to biodegradable urns, flowers and wreaths with the highest level of professionalism. Our goal is to help the grieving family comfortably plan the sea funeral of their departed loved one in a memorable and dignified manner. Locations we serve off the southern California coast include Long Beach, Redondo Beach, Los Angeles, San Pedro and Catalina Island.
For your free consultation, you can call our office phone number or write us an email using the contact form on our website.