Instructions for Burial at Sea 
Burial at sea and scattering at sea require proper planning and arrangement. It is very difficult for an individual to handle the entire procedure on their own. There are a set of laws and regulations that must be adhered to when performing an ocean burial or sea scattering ceremony. Apart from the maritime issues, there are several other restrictions and complicated requirements that must be followed during a full body burial at sea or ashes burial at sea. It is crucial that all the instructions for burial at sea are followed exactly as stated by the government and concerned authorities. There are many sea funeral services that provide expert help for the hassle-free planning of a sea burial for the deceased in the United States.
Based in San Pedro, CA, Burial at Sea is a highly trusted ocean funeral company that specializes in whole body burial at sea, ash dispersal, and charter boat for scattering ashes on Southern California Coast.
Sea Burial vs Ash Scattering
Instructions and requirements may vary depending on whether you plan to carry out a full body burial at sea or scatter ashes in the ocean. A full body burial means you will need to plan every minute detail in an accurate manner, in order for the burial of the body of the deceased without any hassles. Compared to a casket burial at sea, ash scattering is faster and simpler.
Read More:
Best Way to Spread Ashes in the Ocean
Before you start planning for either of these sea funeral ceremonies, you must make yourself aware of all laws and regulations.
There are strict rules for placing anything in the ocean unless you report it properly to the US government. Violating any of the regulations in this regard can lead to heavy penalties by the regulatory bodies.
Instructions to Follow
Burial at Sea in San Pedro receives many calls and questions from individuals desiring to know the restrictions and requirements both for whole body burial at sea and ashes buried at sea. Below, we try to discuss all the maritime laws and regulatory guidelines that must be complied with.
Distance from Land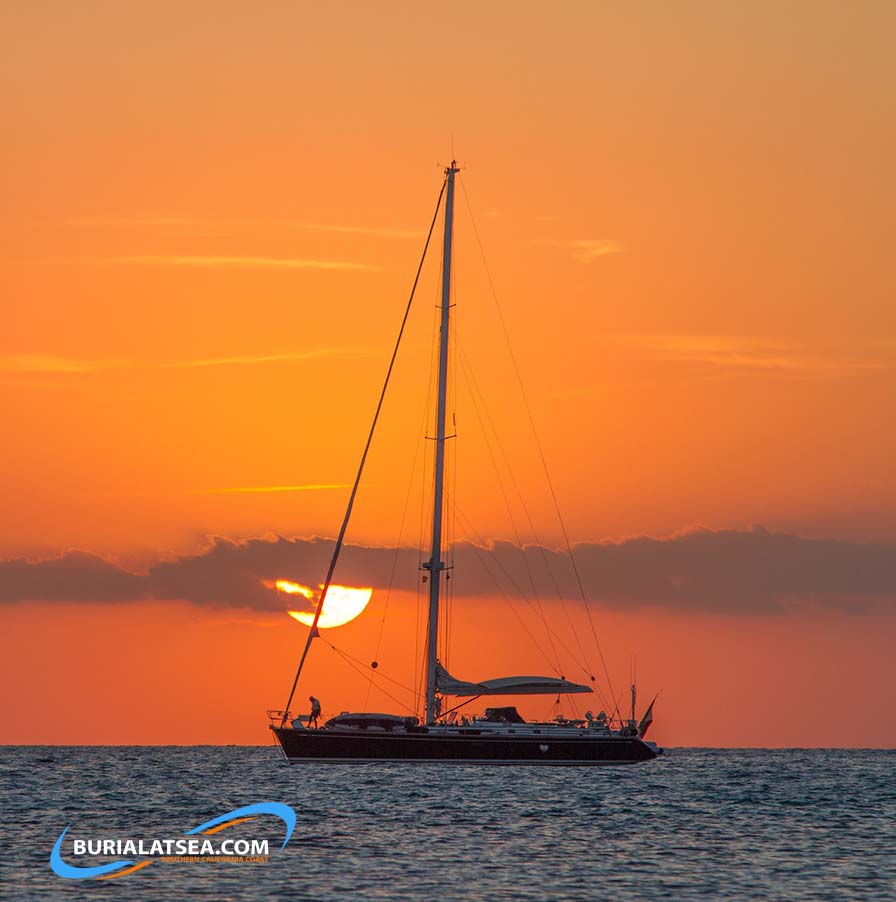 When it comes to ocean burial and memorials at sea, the first crucial concern is the distance from land to the water. Just like there are other restrictions and regulations, the MPRSA has also specified the minimum distance from land in the ocean where the burial or ash scattering will take place.
Whether it is a whole body sea burial or spreading ashes at sea, it must be conducted at a minimum distance of three nautical miles from land in the ocean waters. All rules and regulations like these are framed in order to protect the ocean environment. That is the reason the grieving family needs to hire a boat to scatter ashes or perform a deep-sea burial. Based on how many people will attend the ceremony, you can hire the right vessel from a funeral company. The charter boat will take the family member and friends out in the ocean for the burial ceremony.
For more information on boat hire for scattering ashes and casket burial, reach out to one of our experts at Burial at Sea. We provide a diesel-engine boat with the capacity to accommodate up to 25 people.
Depth Requirement
In addition to distance from land, the full body burial must also take place at a certain depth in the waters. As per the maritime rules, you should bury your deceased loved one at a minimum depth of 600 ft.
Depth requirements are applicable only in the case of full-body ocean burials or casket burial at sea. If you plan ash dispersal, there is no need to comply with the above-mentioned water depth. When it is a whole-body ocean burial, it must be done in a proper manner in order to avoid the body being returned to the shore during high tide. You will never want the body to come to the water's surface or get back to the shore after the ceremony is over. If the body is buried 600 ft deep, the body sinks deep in a proper manner and stays that way.
Likewise, if you plan to perform a sea burial off the coast of Redondo Beach, Long Beach, San Pedro, Los Angeles, or Catalina Island, you should always remember to do it at a minimum depth of 600 ft in the ocean. If you have a question in this regard, feel free to ask one of our professionals.
Biodegradable Materials
Marine pollution is a serious concern. When performing water burials, it is extremely important to keep the ocean environment free from any kind of pollutant that may be dumped with the body. As per government rules, all materials used during the ocean funeral ceremony must be biodegradable.
Just like we like to live green, we should also try to follow that when someone is buried in the ocean. A combination of chemicals and trash causes a lot of damage to the ocean environment. It affects aquatic life as well as economic structures, globally. Worse still, the pollutants dumped in the ocean do not harm the ocean alone. Many of these pollutants make their way back to us in different ways. Therefore, it is everyone's responsibility to protect the ocean environment and avoid doing things that will cause damage to the ocean and its organisms.
Whether you plan for a full-body casket burial at sea or just releasing ashes in the ocean, you should only use biodegradable materials, which refer to products that will easily decompose and break down.
Funeral companies often provide a wide range of products made from natural materials to be used during sea burials. Right from biodegradable coffins and caskets to flowers and wreaths, you will find everything that is required for carrying out the memorial at sea. You will come across a variety of beautifully designed biodegradable urns used for scattering ashes in the ocean. All these products are designed to decompose by living organisms and microorganisms in the sea.
Application to the EPA for Burial at Sea
In order to perform a sea burial, you must submit an application to the EPA office located in your city or state. This should be done at least a month in advance with the help of a funeral director (in the case of a full-body sea burial) or a funeral company such as Burial at Sea in California.
The Environmental Protection Agency (EPA) has outlined the entire application process in detail on its website. First, you need to create a plan for the burial at sea ceremony, termed as a "Burial at Sea Proposal." The proposal contains every bit of the plan you have created for the sea memorial including the type of coffin or casket used, how it will be tied so it stays in one piece, and how it will be weighted down so that it sinks to the bottom of the floor and stays there. You can obtain the application form online, from the local EPA office, or from a funeral company. After you have completed the form, you must send it to EPA via email or post.
Once the EPA approves your application, they will share the information with every concerned maritime group. You will also be issued a certificate of compliance for conducting the sea burial or deep sea burial. If you need expert help in obtaining the EPA permit without any hassle, reach out to one of our ocean funeral professionals at Burial at Sea in San Pedro, California.
Reporting to the EPA
It is extremely important to ensure that the sea burial is conducted exactly as specified in the "Burial at Sea Proposal."
You or the funeral director must collect evidence to prove the burial took place while adhering to all the maritime rules and regulations. The evidence includes videos and images from the funeral along with a time and date stamp. Reporting to the EPA is an important part of the process. If the EPA finds rules were violated, they might impose oppressive penalties on the family.
As per the rules, you must notify and report to the EPA with evidence within 30 days of the full body sea burial or ash scattering.
Human Remains for Burial
According to maritime laws, you can bury only human remains. It is not permissible to bury the remains of animals or pets in the ocean. It is also prohibited to mix any kind of medical waste with human remains.
Burial at Sea: Frequently Asked Questions (FAQ)
Apart from those mentioned above, there are several other instructions and restrictions for people to follow during a sea burial ceremony. Here is an FAQ where we try to answer some of the key questions.
Q: Can human body parts be buried in the ocean?
A: Yes, it is permissible to bury human body parts in the ocean, cremated or non-cremated. Since the body parts belong to a single deceased human being, it is considered human remains. However, it is not permissible to intermix the body parts of several deceased persons.
Q: What if the circumstances don't allow the grieving family to be present at the funeral? Can a funeral company still conduct the burial?
A: Sea burials and releasing ashes in the ocean can be performed with or without the presence of grieving family and friends. Funeral planning services carry out planning and arrangement for both – attended and unattended ocean funeral ceremonies. If you are unable to be present at the ceremony due to certain circumstances, the funeral company you hire will do it on your behalf.
Q: What is the average cost of a sea burial?
A: The actual cost of a sea burial or ash spreading ceremony varies depending on specific requirements including boat hire, biodegradable casket, biodegradable urns and flowers, and the number of people who will attend the sea burial. The average cost of an attended sea funeral ranges between $900 and $1200. To receive a free quote for a sea burial service or scattering ashes at sea service, you should get in touch with one of our counselors at Burial at Sea.
Q: How do I hire a boat to conduct a sea burial?
A: The vessel you use should be authorized to use. Plus, it should have the capacity to accommodate the number of people you have. If you plan to perform a sea funeral off the coast of Southern California, you should head over to Burial at Sea, which provides ocean burial and ash spreading at sea services off Long Beach, Redondo Beach, San Pedro, Los Angeles, Catalina Island, etc. The company will take care of every small detail that conducting sea funeral ceremonies involve including all necessary permits, caskets, urns, flowers, wreaths, boat, etc.
Talk to an Ocean Funeral Counselor
If you still have a question to ask or want us to plan a sea memorial for your deceased loved one off the coast of Southern California, reach out to one of our experts at Burial at Sea in San Pedro, CA. Through our comprehensive experience, we fully understand the varying needs for sea burials and ash spreading in the ocean. Whether you plan for full-body burials or ash spreading at sea, feel confident that we will plan and arrange everything in a proper and completely hassle-free manner. After a detailed discussion with you, our experts will develop a perfect plan to bury your departed loved one in a dignified and unforgettable manner. We are highly responsive and sensitive to your needs for ocean funerals.
For your free consultation with one of our sea funeral experts, you can either call our office phone number or send us an email.