Why Full Body Burials at Sea Are Becoming More Popular
It is not just in movies where burial at sea happens. Even in real life, you might have seen yourself or at least heard about ocean burials and sea scattering in recent years. Although full-body burials are not a new method, they are now available for just anyone. The love of the sea has motivated a lot of people, and more and more people are opting for full-body burials. It takes proper planning in advance to conduct a sea burial without any kind of last-minute hassle. However, the good news is that such burials including whole body burial at sea and ashes burial at sea are possible as well as legal as long as the local, state, and federal maritime laws are adhered to in a proper and strict manner throughout the entire procedure.
If you are wondering why exactly full-body burials at sea are gaining so much popularity, this is the article for you. Let us discuss the reasons behind this and help you broaden your knowledge on this topic.
What is a Full Body Burial at Sea?
A whole body burial at sea refers to the committal of the body of the deceased person to the ocean, usually through a ship or boat. Earlier, it was carried out only by the US navies, but it can now be performed by other citizens of the country. This is a highly dignified and memorable tradition and is followed in different parts of the world. The actual steps of the ocean burial procedure may vary a little from one country or place to another. Permits from MPRSA are required to perform this procedure and the report must be submitted to the EPA office.
It is important to understand that a full body burial at sea is conducted in pre-designated and approved federal waters. The burial must be done at 6 miles from the seashore and at a depth of 600-2000 ft.
Full-body ocean burials at sea consist of several steps, each of which should be planned and arranged in a proper manner. You will need to seek the help of an expert to carry out deep-sea burials. Whether it is hiring a charter boat or getting a biodegradable casket or coffin and arranging other objects, having a sea funeral specialist by your side will make the planning fast and easy. The service provider you hire will arrange for all the permits and licenses as well.
If you look for sea burials off the coast of Southern California, you should get in touch with Burial at Sea. The service provider provides charter boats for scattering ashes and full-body sea burials off the coast of San Pedro, Long Beach, Los Angeles, Redondo Beach, and Catalina Island.
Reasons for the High Popularity of Full Body Sea Burials
So, the big question is why the number of people choosing full-body burials at sea over traditional burials is continuously increasing. There is not just one, but multiple reasons behind this ever-growing popularity. Here are some of the most important benefits of a full-body sea burial. It is due to these benefits that more and more people want to go for full-body burials in the ocean.
No Need to Purchase a Burial Plot
For traditional burials, you will need to purchase a burial plot either in a public cemetery or a private cemetery. Buying a plot in a public cemetery can cost up to $2,500 whereas buying a plot in a private cemetery is a lot more expensive. The cost of a burial plot may vary from one place to another as well as depends on exactly what kind of plot you want for the burial of your deceased loved one. Also, there are some areas in a cemetery more desirable than others.
Well, opting for full-body sea burial simply eliminates the need to purchase a plot for burial. If you don't want to invest a lot of money in buying burial plots and look for a highly memorable and dignified way to perform the last rites of a departed loved one, a full-body sea burial is an ideal option.
If you go for full-body sea burials, you will no longer need to worry about managing the cemetery grounds. To find out more in this regard, feel free to reach out to one of our experts at Burial at Sea in San Pedro, CA.
Conserve Natural Resources
It is everyone's duty to make the planet healthier. Traditional burials are often conducted in a way that causes harm to natural resources. It is important to conserve intrinsically valuable land and natural habitats. That is exactly why the concept of "conservation burial" or "green burial" has come up.
If you plan to avoid the use of burial vaults, grave-digging machinery, and headstone, you should definitely consider sea burials. This is one of the key reasons why full-body or casket burial at sea is becoming popular by the day. Ocean burials provide people with an excellent option to avoid harming natural resources and perform the entire memorial at sea in a fully biodegradable manner. As per the state and federal laws, the casket, the urn, wreaths, and flowers must be biodegradable, so that there is no harm done to the ocean environment.
For people who genuinely care about protecting the environment, burial by sea is the most ideal option to bury someone.
The symbolism of Sea Funerals
The human body contains as much as 60% water. If humans are attracted to water, it does not happen merely by chance. In fact, it is due to the internal composition of the human body that makes it happen.
Water is an inseparable part of human life. It is simply impossible to consider life without the presence of water. In fact, water is one of the most important symbols of human life. Coming to water burials or deep sea burials, it is important to understand the relationship between human life and water. Ocean burials have been practiced for thousands of years. Why early civilizations adopted this practice is clear proof of the high significance of the practice. In modern times as well, the symbolism of water or sea funerals has remained intact.
In addition to full-body sea burials, people also register into this symbolism of water by scattering ashes at sea. Compared to whole body casket burial at sea, spreading ashes at sea is a lot simpler and takes a lot less time. There are biodegradable urns available to release ashes in the ocean.
Picturesque Boat Trip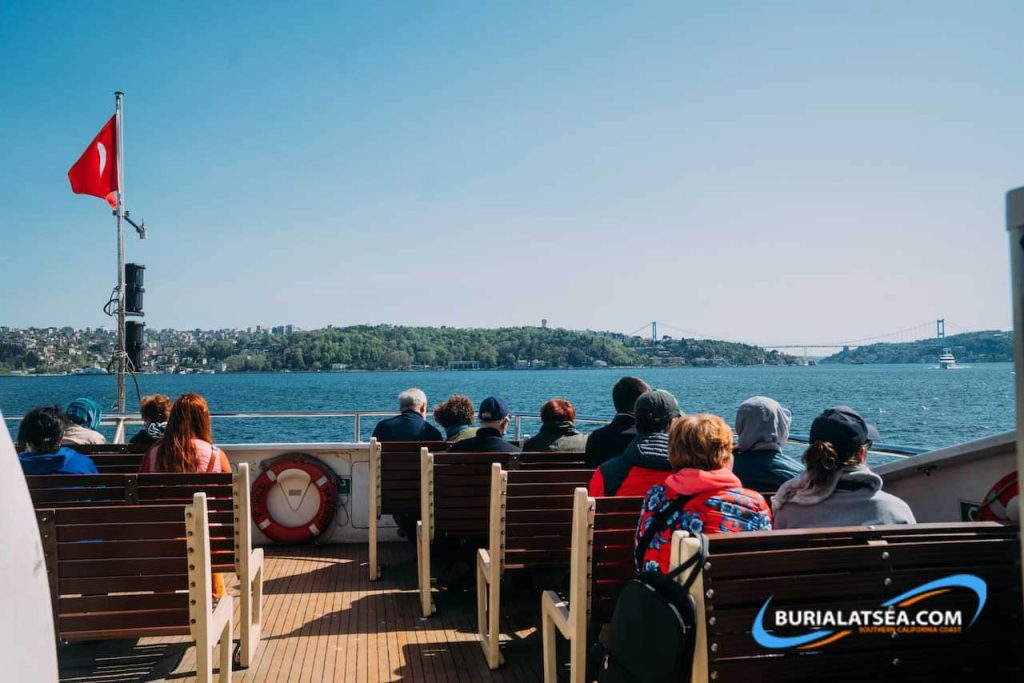 One of the main arrangements for a full-body ocean burial is to hire a charter boat in which the body of the deceased person will be taken to the designated site in the ocean. If it is an attended sea funeral, then the vessel would have to be big enough for the family and friends to accommodate as well.
In fact, traveling by boat is one of the most beautiful things about the burial at sea ceremony. The trip is a scenic one, where all the people taking part in the funeral will view and experience the ocean environment. Based on where exactly in the ocean the designated burial site is, the trip can take up to one hour. This is the time when the grieving family, relatives, and friends can reflect quietly and experience wonderful memory-sharing with one another. This is exactly why burial at sea ceremonies is known for being unforgettable.
Burial at Sea in San Pedro, CA, provides water vessels for hire for taking the body of the deceased and the people taking part in the funeral ceremony to the ocean. Known as the "ASANTE", the vessel has the capacity to accommodate up to 25 people. It is a very well-built and powerful boat that sails on Southern Californian waters without any kind of hassle. To get more details about hiring this boat, feel free to reach out to one of our sea funeral planning experts.
Love for the Ocean
Many times, the grieving family plans and organizes a full-body sea burial because of their or the deceased person's love for the sea. If a person is in love with the ocean, he or she may specify a sea burial proper to their death. This often happens, mostly in the case of people who have spent a large part of their lives near the sea or working at the sea. However, simply anyone may express the desire to have a burial in the ocean waters after their passing away.
If that is the case, arranging a full-body sea burial or an open sea burial will definitely bring peace and solace for the departed loved one as well as for the grieving family, relatives, co-workers, and friends.
Financial Savings
One of the biggest reasons why whole-body ocean burials are gaining popularity is cost savings. People who choose sea burials over traditional burials can perform the entire ceremony at a much lower price.
The cost of conducting a traditional burial at a cemetery is around $20,000. But you can organize an attended, full-body sea burial ceremony between $5,000 and $10,000. If it is a sea scattering, the prices can be even lower. The prices for putting ashes in the ocean start at $1,450, which includes boat hire and six passengers on board. The total cost of the funerals at sea will vary depending on exactly how many people will attend the sea burial ceremony.
To get a free full-body sea burial quote, feel free to reach out to one of the experts at Burial at Sea in San Pedro, California.
GPS Coordinates to Revisit the Exact Location
Just because you choose the ocean as the final resting place doesn't mean you cannot revisit the burial site. The best thing is that the family and friends of the deceased person can revisit the exact location later.
During the ocean burial, the captain of the boat will record the exact coordinates of the place where the burial took place. The information will be there on the Certificate of Disposition, given to the family of the departed loved one. Using this information, family and friends will be able to pay a visit to the burial site in order to remember the person or for ceremonial purposes.
As you can see, full-body sea burials are gaining popularity all over the United States for some good and valid reasons. No matter what your reasons are for conducting a full body sea burial, it is a sure thing that it is going to be one of the most dignified and memorable events for the grieving family, relatives, friends, colleagues, etc. Participating by writing on the shroud, saying prayers and quotations, and tossing flowers into the water will make it truly unforgettable. After the whole body sea burial has been performed, the person or the service provider responsible for the entire ceremony must file a report with the EPA within 30 days.
Do You Want a Full Body Sea Burial?
If you desire a full-body sea burial, you should first decide what exactly you look for. The planning will be done as per your specific requirements including the number of people who will attend, placement of the body in a casket or shroud, flowers and wreaths, music, etc. Most importantly, you will need to seek permission from the concerned authorities and submit reports to the EPA office after the funeral ceremony is over. If you want the planning to be perfect and hassle-free, reach out to Burial at Sea Services in San Pedro, CA. Our ocean funeral company specializes in organizing both full body burial at sea and ashes burial at sea off the coast of Long Beach, Redondo Beach, Los Angeles, Catalina Island, and San Pedro.
For your free consultation, you should give our office in San Pedro a phone call or write us an email using the contact form.