What Happens at a Burial at Sea Service?
People look for new ways and options to make the last voyage of their deceased loved ones memorable. Over the past couple of years, the trend for ocean burials has caught on in a big way. If you plan for at-sea burial, you will need to hire a burial at-sea service that helps with the arrangement of the entire sea funeral in a hassle-free manner. Whether you look for a full body burial at sea or ash scattering at sea, these services are designed to assist the grieving family in getting all the things done as per the state and maritime rules and regulations. With expert planners by your side, you will not have to worry a little and every detail of the memorial at sea will be taken care of in the best and most memorable manner.
If you are in southern California, Burial at Sea is the ideal planner you can work with both for whole body burial at sea and spreading ashes at sea. In this article, we will talk about what exactly services like these do during an ocean burial and all the things that happen at such a service.
What is a Burial at Sea?
A burial at sea is an alternative but memorable method of saying goodbye to a departed loved one. If you do not wish to hold a traditional land burial, you can plan for an ocean burial or ash burial at sea.
When you look for a memorable place to bury or cremate a deceased loved one, there is no place more ideal and appropriate than the ocean. However, planning and arranging a perfect burial at sea ceremony is not an easy job. That is exactly why you need to seek help from specialists.
There are many funeral companies that provide burials and cremations at Sea. One such service provider is Burial at Sea that is known for helping grieving families conduct burials off the southern California coast including the Redondo Beach, Long Beach, San Pedro, Los Angeles and Catalina Island. Feel free to get in touch with one of our experts to find more details on how you can perform a dignified and memorable last voyage for your departed loved ones.
What to Expect During a Burial at Sea Ceremony
Sea burials and ash spreading in the ocean are available for both military personnel and civilians. If the deceased was employed in the US Navy, the government itself can arrange the ocean funeral. However, it is always best to hire a private funeral company in both cases, as it will provide you with a great deal of freedom to choose how exactly you want the ceremony to be conducted.
Here is what generally happens at an open sea burial or deep sea burial carried out with the help of a private service provider.
Brief Message:
If it is a full-body burial at sea, having a funeral director will be necessary. The clergyman or the monk will read out a brief message about the deceased loved one.
Sharing:
If the family or friends of the deceased want to share a memory or pay a tribute to the departed loved one, the funeral company will provide them an opportunity for the same at the site of sea burial.
Read More About:
Funeral Song or Music:
Depending on what you prefer best, you can either hire a musician to play a memorial song or use the boat's intercom system for the music. All of this should be planned in advance with the help of the private ocean funeral company you have hired to conduct the ceremony.
Video Tribute:
Private service providers will allow the grieving family and friends to pay a video tribute to the deceased loved one. The video can be played in the charter boat cabin before releasing the body.
Releasing the Body:
The coffin containing the body of the deceased will be lifted by the captain and the crew member to commit to the sea. This will be done exactly as per the EPA guidelines and maritime laws.
Scattering of Flowers: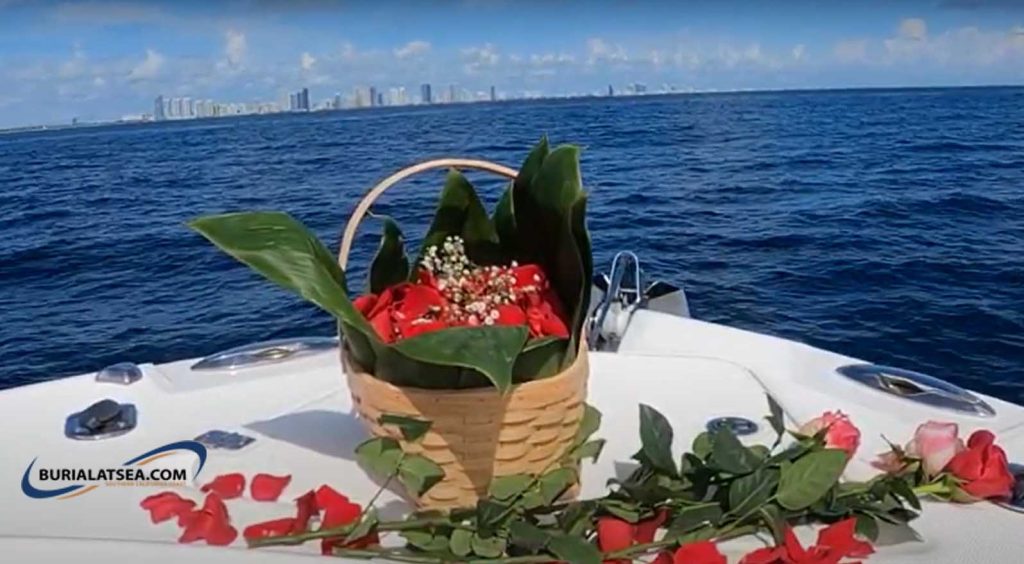 You can skip this if you want. However, most families of the deceased loved one choose to scatter wreaths, flowers, and other floral products in the ocean after the committal. All these products are natural and biodegradable, so they do not harm the ocean environment.
Final Prayer:
Either a family member or the clergy member will read out a few words in the honorable memory of the deceased. This can be a prayer, quote, poem or a couple of words about the loved one.
These are only a general guideline of what happens at a sea funeral. If you want to find out detailed information, feel free to get in touch with one of our specialists at Burial at Sea in San Pedro, CA.
Types of Funerals a Sea Burial Service Offers
When you hire a burial at sea service, you will be provided with multiple options to choose from based on your specific needs.
Unattended Sea Scattering
This type of ash scattering means the family will not attend the ceremony. Family members may not be able to be present at the ash-spreading ceremony due to a number of reasons. Common reasons for non-attendance of the family include sickness or living in a faraway location.
During an unattended ash spreading, the company people will take the cremated ashes of the departed loved one out in the ocean while you will have the liberty to choose how everything else will be done. For example, you can ask the service provider to play a certain music or recite a quote or poem at the time of throwing ashes in the ocean. The funeral company you hire will inform you of every specific detail as to how the entire sea scattering ceremony will be performed.
Attended Sea Scattering
An attended sea funeral requires a lot more planning than an unattended one. If you plan to make family and friends a part of the sea memorial ceremony, the service provider will do exactly that.
For an attended funeral, you will need to hire charter boats for scattering ashes. Burial at Sea in southern California provides the ASANTE, which is a locally built, powerful boat to navigate the Californian waters in a smooth manner. Outfitted with a diesel engine, the boat does not give out fumes or smell when sailing. The rates for boat rental to scatter ashes vary depending on exactly how many people will travel in the boat, which can accommodate up to 25 persons.
Since it is an attended sea funeral, the company will give you more options to plan out other details such as music, speakers, wreaths, and other floral and ceremonial products to make the ceremony unforgettable.
Scattering at the Beach
Many families want to scatter the ashes of their loved ones on the beach. This type of sea burial is often chosen in situations where the departed loved one was a great lover of the beach. The ceremony involves placing the ashes in the trench, close to the seashore. This allows for the ashes to get slowly washed away into the ocean during high tide. Here again, it is important to abide by the rules and regulations in place so as to protect the beach environment.
Full Body Burial at Sea
Previously, a whole body burial at sea was a privilege, available only to the military veterans. But that is not the case anymore. Today, anyone can choose to go for a full-body ocean burial while adhering to all the federal and state laws and rules in order to protect the ocean environment.
Read More About:
A burial at sea service will help you plan out every minute detail of the ocean burial in a proper and lawful manner. Right from obtaining an EPA permit and using a biodegradable shroud or coffin to arranging flowers and wreaths, the service provider will take care of everything. Based on your preferences, the body of the deceased can be cremated either in a casket or without a casket. Not using a casket means the body (wrapped in a shroud) will be directly released into the ocean. Whether you want a full body sea burial, casket burial at sea, the funeral company will only use eco-friendly and green products in compliance with the laws.
The ocean funeral company will take all the family members and friends in a boat out in the ocean for the ceremony. Family members will lift the burial backboard so as to release the body into the sea.
Religious Service
Burial by sea is permitted in all major religions and faiths. For full body burial at sea or casket burial at sea, a religious authority such as a minister or a monk will be required to conduct the prayers. The service provider will arrange for the same, based on your religious beliefs.
Types of Urns Provided for Dispersing Ashes at Sea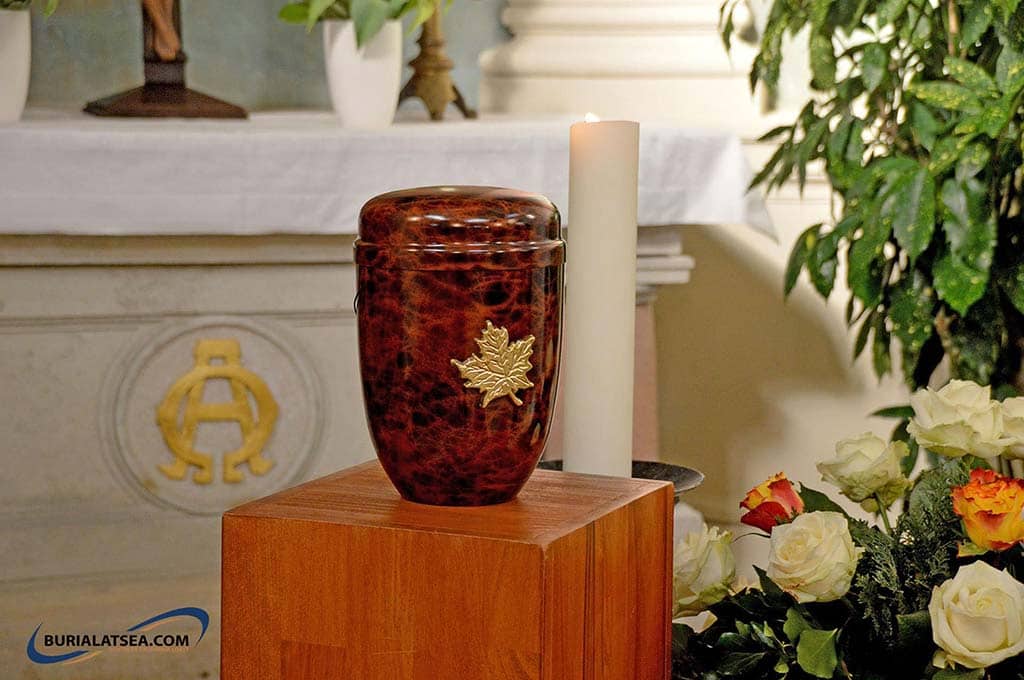 When it comes to scattering ashes in the ocean, you will come across different types of urns to choose from. The urns you can use also include a range of attractively designed products. Burial at Sea in southern California provides a variety of beautiful urns made from completely natural materials.
For use during sea funeral ceremonies, manufacturers design eco-friendly as well as beautiful pieces of urns. The eco water urn and eco scattering bio urn are excellent examples of urns that families use to release the ashes into the ocean. The urns are lightweight and available in different shapes. Ash scattering urns made from bamboo are also very popular. Using these urns, you can spread the ashes in a secure manner without worrying about the blowing wind.
Still Have a Question?
Hopefully, you have now understood how a private funeral company plans out a burial at sea ceremony and what you can expect. Funerals at sea, open sea burials and dispersing ashes at sea are appropriate and beautiful ways to memorize the final voyage of a departed loved one. If you still have a question or want to plan a full-body sea burial or ash spreading ceremony for a deceased loved one, do not hesitate to talk to one of our funeral planning experts.
For your free consultation, you can give our office in San Pedro, CA, a phone call or write us an email using the contact form.